All the services needed for that special day:
BARTENDER SERVICES
CAKES
CATERING
CEREMONY PERFORMERS/PASTORS
Joyful Ceremonies – Joyful Kauai
Dale Rosenfeld
P.O. Box 269
Kapaa, HI 96746
808-639-0283
www.Joyful-Ceremonies.com
Civil Unions & Weddings offered by Dale of Joyful Ceremonies. Also "Ride the Rainbow" on horseback before, during or after your celebration!
DJ's/ENTERTAINMENT
FLORIST
LEGAL SERVICES
JEWERLY
Krikawa Jewelry Designs
Lisa Krikawa
1-888-KRIKAWA
www.Krikawa.com
Where your dream ring comes true.
INVITATIONS/PRINTERS
PHOTOGRAPHERS/VIDEOGRAPHERS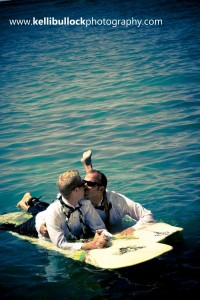 Kelli Bullock Photography
Kelli with an eye
Kelli Bullock
Serving All Islands
808-387-5224
www.Facebook.com
www.KelliBullock Photography.com
Kelli Bullock Photography specializes in destination weddings and unique, personal portraiture in the beautiful islands of Hawaii.
1/13
LightSea Images
Llevellyn Lightsey
P.O. Box 608
Puunene, HI 96784
(808) 283-8557
www.LightSeaImages.com
Relaxed lifestyle Portraits, Engagements, Architectural Photos, Website Photos, Events, Fine Arts Prints and other Fun Stuff!
1/14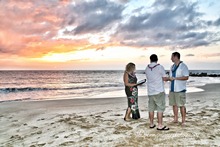 Penny Palmer Photography
Penny Palmer
Serving All Major Islands
808-205-1409
www.PennyPalmer
Photography.com
Enjoy two skilled photographers,artistic enhancements, or request our ordained minister.
1/13
TRANSPORTATION SERVICES
WEDDING CEREMONY & CELEBRATION SITES
WEDDING PLANNERS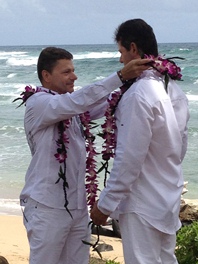 Hawaiian Style Weddings
Serving Maui, Kauai, Oahu & The Big Island
Call Jana for a Free Consultation
888-744-5338
www.HawiianStyleWeddings.com
Full-Service planning for your Romantic, Intimate, Fun, Beautiful
Civil Union, Commitment & Vow Renewal Ceremonies with Hawaiian touches. Your Choice of Officiant, Photographer, Location and More!
Photo by Laurie LaRoque
1/14
Maile Weddings and Events
Aloha@MaileHawaiiWeddings.com
Serving the 4 Major Islands
888-307-4298
www.MaileHawaiiWeddings.com
Maile Weddings & Events celebrates your event vision, from inspiration to creation with our comprehensive Wedding consulting services.
1/14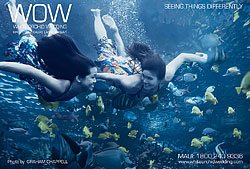 White Orchid Wedding
PO Box 2696, Wailuku, HI 96793
800-240-9336
www.WhiteOrchid Wedding.com
Let us 'wow' you beyond your wildest expectations! Pick any Hawaiian Island and we will be there!
1/14
WEDDING ATTIRE